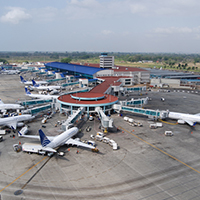 FaceFirst™, a facial recognition software system, continues its growth in International airports with the expansion of services into the North Terminal (Terminal Muelle Norte), at the Tocumen International Airport in Panama. FaceFirst™ has demonstrated great success in securing the Panama Airport and multiple Panama border crossings since its implementation at the Tocumen Airport in 2011.
The software has provided the following benefits for national security:
Enabled the capture of multiple Interpol suspects
Enabled the ongoing tracking and captures of multiple regional and nationally wanted persons
Enabled the geo-fencing of authorized people throughout the facility
These capabilities are especially vital due to the increasingly high volume of traffic through Tocumen International Airport, reaching approximately 7.8 million people in 2013 alone, and nearly doubling in size the last five years.
From Reuters