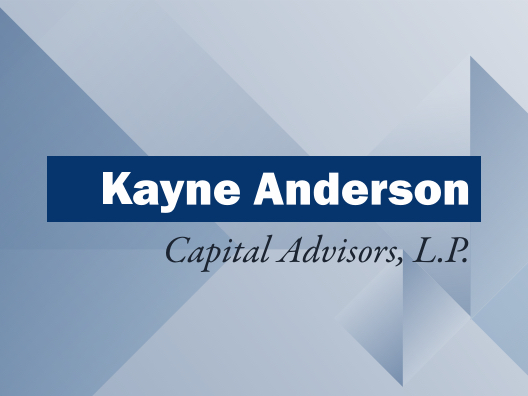 KAYNE PARTNERS CLOSES LATEST GROWTH EQUITY FUND
Announces Launch of Kayne Partners Growth Credit Platform
LOS ANGELES, CA – July 19, 2022 — Kayne Partners ("KPF"), the growth private capital strategy of Kayne Anderson Capital Advisors, L.P. ("Kayne Anderson"), today announced that it has closed on over $600 million of new capital for its growth platform, bringing the strategy's total assets under management to over $1.2 billion. This includes the closing of its fifth equity fund, Kayne Partners Fund V, L.P. ("KPF V"), co-investment capital, and the newly launched Kayne Partners growth credit platform. The new credit platform is a complementary credit strategy focused on providing stage-specific technology companies with a flexible debt solution to continue sustained growth.
KPF V, which is the largest Kayne Partners growth capital fund raised by Kayne Anderson to date, received strong support from both existing and new investors that include a diverse group of family offices, former KPF CEOs, entrepreneurs, strategic institutional investors, pensions, and high-net-worth individuals.
Nishita Cummings, Co-Head of Kayne Partners, said, "The unique combination of unparalleled resources, domain knowledge and stage expertise, along with the capital that Kayne Partners can bring to entrepreneurs is a strong point of differentiation for our team. We have seen how our stage-specific approach can drive significant value creation at a key point of inflection for the companies we have partnered with and are proud to have the support of an incredible group of investors in continuing to execute our strategy."
Building on KPF's strong track record of investing more than $862 million in approximately 50 companies in the lower middle market, KPF V will continue to leverage the extensive resources of Kayne Anderson through its investor network and operational resources. The team has made eight investments out of the new equity fund and seeks to continue investing in fast-growing, enterprise software and tech-enabled service businesses. These companies show an efficient use of capital and share attractive investment characteristics, including a demonstrated track record of growth and new sales, experienced management teams, and attractive customer bases. KPF's primary sector focuses include supply chain & logistics, media & telecommunications, business process outsourcing & automation, financial technology, healthcare IT and security, compliance & infrastructure. The team is currently supported by a network of seven strategic operating partners with extensive networks and industry and domain expertise tailored to our segment of the market.
The simultaneous launch of the Kayne Partners growth credit platform enables the team to bring a complementary capital solution with a unique risk-return profile to a different subset of growth companies than Fund V is targeting, while leveraging existing resources, infrastructure, and underwriting expertise. Additionally, the team will benefit from the experience and knowledge of Kayne Anderson's private credit platform.
Leon Chen, Managing Partner, said, "We believe our niche credit solutions serve to fill a gap in the market that traditional lenders are not able to fully serve. Our solutions will enable specific growth-stage companies to have access to the appropriate type of capital they need to fund their growth."
Nate Locke, Co-Head of Kayne Partners, added, "In this increasingly dynamic investment climate, having the ability to provide strategic solutions across the capital structure provides us with a significant competitive advantage in tailoring the most appropriate solution to the needs of each entrepreneur and business."
About Kayne Partners
Kayne Partners, the Los Angeles-based dedicated growth capital strategy of Kayne Anderson Capital Advisors, L.P., is a leading provider of equity and debt capital solutions and connections to privately held, high growth, enterprise software and tech-enabled service businesses in North America. Kayne Partners seeks to partner with driven entrepreneurs and provide capital to high growth companies at a transformative point in their life cycle in the following industries: media & telecommunications, supply chain & logistics, financial technology, healthcare IT, security & compliance, and business process outsourcing & automation. For more information, please visit www.kaynepartners.com.
About Kayne Anderson Capital Advisors
Kayne Anderson Capital Advisors, L.P., founded in 1984, is a leading alternative investment management firm focused on real estate, credit, infrastructure/energy, renewables, and growth capital. Kayne's investment philosophy is to pursue niches, with an emphasis on cash flow, where our knowledge and sourcing advantages enable us to deliver above average, risk-adjusted investment returns. As responsible stewards of capital, Kayne's philosophy extends to promoting responsible investment practices and sustainable business practices to create long-term value for our investors. Kayne manages nearly $34 billion in assets (as of 6/30/2022) for institutional investors, family offices, high net worth and retail clients and employs over 325 professionals in five core offices across the U.S.
Contacts:
Paul Blank
Kayne Anderson
310-284-6410
Andrew DeYoung
Kayne Partners
310-284-6440