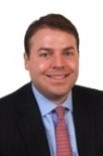 Rick Persutti is a managing director for Kayne Anderson's private credit strategies.
Prior to joining Kayne Anderson in 2013, Persutti was a senior analyst in the leveraged finance group at Bank of America Merrill Lynch, focusing on the origination, execution and syndication of high yield and leveraged loan transactions. Prior to Bank of America Merrill Lynch, Persutti was an investment banking analyst in the public finance group at M.R. Beal & Company, focusing on municipal underwriting.
Persutti earned a B.A. in Economics from the College of the Holy Cross.